Role of Partnerships and Collaboration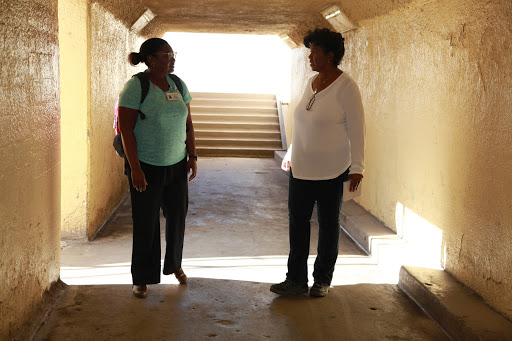 Figure 15.  Nancy Pierre-Paul, Family Nurse Practitioner, collaborates with case manager, Glanda, of The People Concern, during street rounds. Taken by Margaret Molloy.
Venice Family Clinic's Street Medicine Program would not be possible without the 20-year history of collaboration with our key social service partners, The People Concern and St. Joseph Center. These partners provide integrated and comprehensive services to the most vulnerable individuals across a wide spectrum of social needs. Services include outreach, food, clothing, shelter, case management, social services, benefits establishment, transportation and housing, in addition to behavioral health care.
Key lessons learned from our collaborations include:
Community partnerships access a range of services and provide a seamless system of care by fostering trust, cooperation and advocacy for patients.
Medical clinicians gain the opportunity to learn a common language and shared culture of best practices and quality care with social service partners. These focus on the many social care aspects of medicine such as Assertive Engagement, Motivational Interviewing, Trauma-Informed Care, Strengths-Based Approach, Harm Reduction, and Housing First.
Interagency partnerships with social care agencies demonstrate the effectiveness of a warm hand-off in care transitions, enabling crucial patient introductions in field-based visits— bringing medical clinicians directly to unsheltered individuals with the most complex needs.
Community partnerships strengthen population health of the unsheltered and the surrounding institutions by reducing hospital admissions and the high costs of the crisis health systems—police, fire, emergency transport, and the legal system.
The street medicine model necessitates a commitment to addressing the social determinants of health which requires mobilization of resources and expertise across sectors, including health, mental health, substance use, transportation, case management, housing, benefits advocacy, legal services and more.
The economic benefits and sustainability of the street medicine model rely on collaborations with multiple partners to leverage funding and resources.