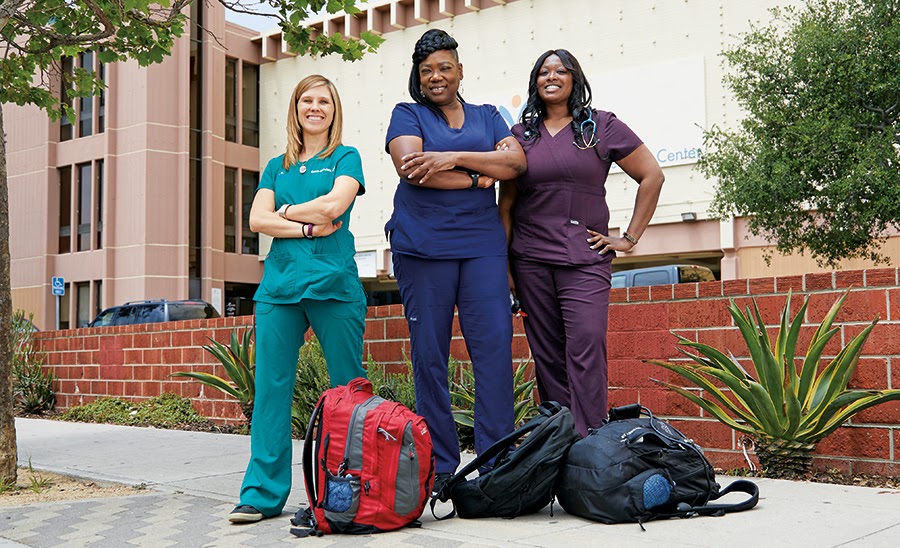 Carrie Kowalski, PA-C, Lachune Price, PA-C, and Ebony Funches DNP, of Venice Family Clinic show off their street medicine attire and backpacks. Cedars Sinai Photos.
a) Recommended Clothing
Wear protective clothing with secured pockets for carrying valuable possessions such as phone, keys, wallet, agency identification and business cards. 
Leave your white coat at the office and wear business casual clothes or scrubs. Wear sturdy, closed toe shoes. Avoid wearing heels or dress shoes. 
Consider wearing scrubs with agency identification.  
Account for the weather conditions where you are working and dress accordingly.
Bring water and be comfortable, safe, and authentic.
b) Care of Backpacks and Clothing—Recommended precautions to prevent infestation include:
Treat backpacks and clothing with 0.5% permethrin spray (tick, mosquito and mite repellent).
Store outreach clothing in a separate hamper and wash all clothing after each use.
Wash and dry clothes in the washing machine and dry on a high heat setting.