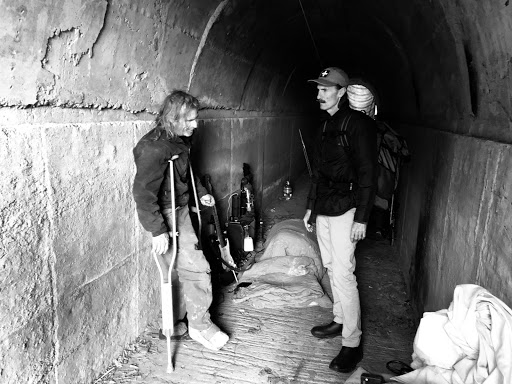 Figure 2. Dr. King visits a patient who has taken shelter in a tunnel. Taken by Alex Gittinger of The People Concern.
In November 2018, Venice Family Clinic was one of two organizations to receive the top award from United Way of Greater Los Angeles in the Los Angeles Homelessness Challenge, which sought new approaches in service delivery. We proposed expanding our Street Medicine Program by creating a training program for medical residents, doctors, nurse practitioners (NPs), physician assistants (PAs), and medical professional students.
This program will be a first of its kind for our Clinic. Our aim is to launch a field-based training program which will utilize this Street Medicine curriculum. The training program will expand our capacity to treat the local homeless community, while introducing a new generation of medical clinicians to the unique challenges and dynamics of street medicine.
The essence of Venice Family Clinic's Street Medicine Program is the power of caring for people who are hurting in myriad ways. Meeting people where they are—entering their private space and world, be it a spot in the park or on a sidewalk, and creating relationships—is fundamental to learning their backstory. Each clinician must be prepared to confront raw physical and emotional distress with the right tools to treat it.
At Venice Family Clinic, our clinicians commit to embrace what is possible by forging human connections with people who have long suffered unspeakable trauma while living with hidden, disabling conditions in the most severe experience of poverty. The vast majority cope with the devastating effects of isolation and stigma, along with a distrust of bureaucratic systems.
The purpose of Venice Family Clinic's Street Medicine Guidelines is to:
Improve the health and well-being of people living unsheltered without access to medical/social care and housing.
Educate and inspire future champions of street medicine.
Create a curriculum that offers integrated, evidence-based guidelines of street medicine with best practices in medical and social care for dissemination to a wider learning community.
The objectives of Venice Family Clinic's Street Medicine Curriculum are to:
Promote an appreciation of the humanistic interactions involved in understanding individuals experiencing homelessness.
Gain an understanding of the patient population—who they are, and why they are important (morbidity, mortality, high cost of care, etc.).
Acquire an awareness of patients' biological, psychosocial, behavioral and cultural issues related to causes of disease and their impact on treatment.
Learn how to obtain a history, perform a physical exam and diagnose in non-traditional settings.
Gain an understanding of the engagement process and relational dynamics of unsheltered patients experiencing homelessness.
Learn the teamwork model of achieving the best outcomes for each patient.
Address tri-morbidity by extending the primary health care role into addiction medicine, psychiatry and social care.
Learn and embrace harm reduction philosophy including medical harm reduction.
Apply creative problem solving with available resources.
Learn self-care strategies, and how to address trauma.
Understand the typical barriers to traditional care of unsheltered patients.
Understand that the emerging best practices of street medicine are new and evolving.