Venice Family Clinic's Street Medicine Model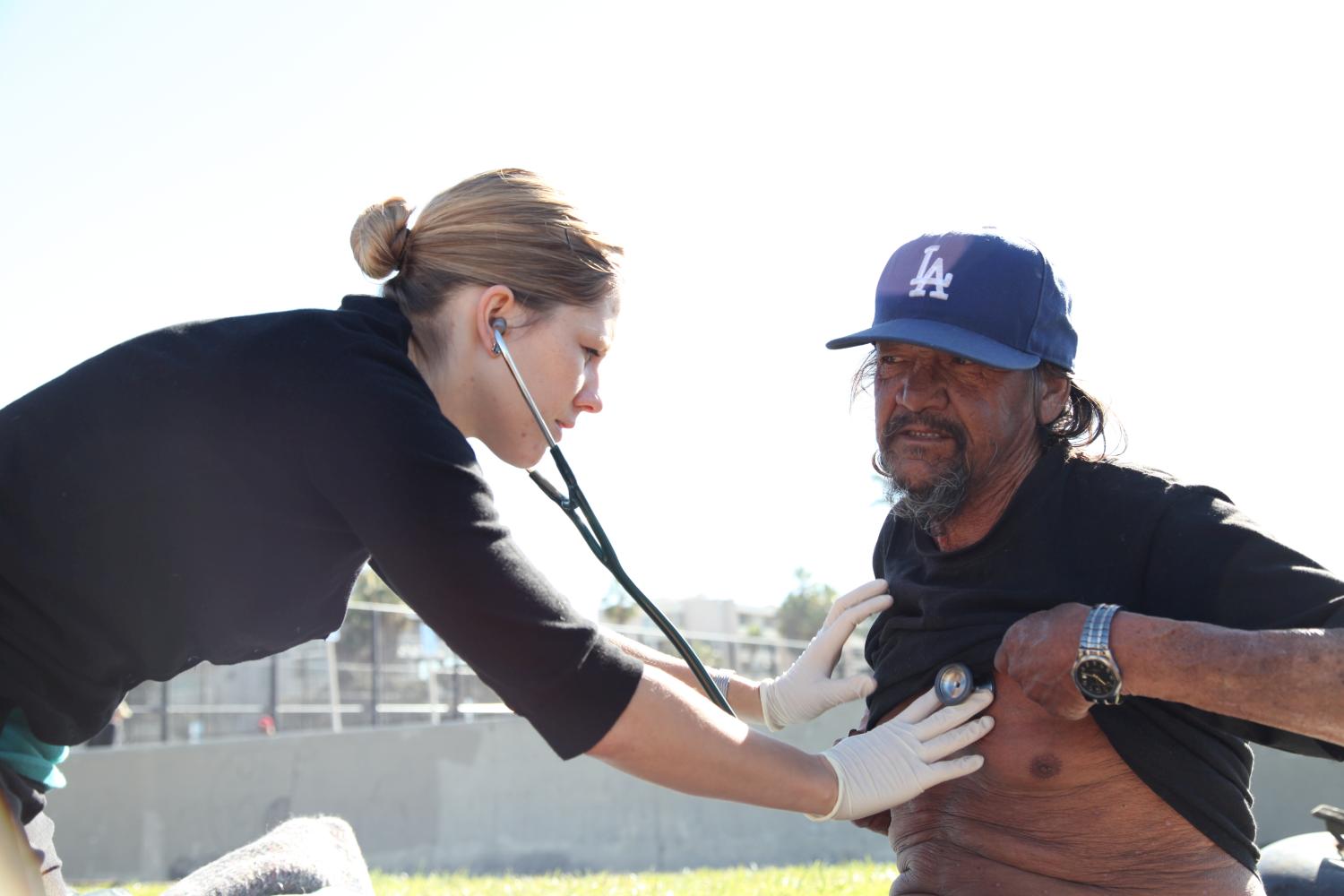 Carrie Kowalski, Physician Assistant, examines a patient at Venice Beach on street medicine rounds in 2012. Taken by Margaret Molloy.
A range of models for street medicine have evolved since 1992, when Dr. Jim Withers first ventured out to bring medical care to people living on the streets of Pittsburgh.9 Here are a few that have informed Venice Family Clinic's Street Medicine Program:
The Boston Health Care for the Homeless Program uses an integrated care model with interdisciplinary staff, following patients in a variety of settings on the streets, in shelter-based clinics, medical respite care, and in hospitals and housing, providing regular contact and uninterrupted care and housing under one roof.
Pittsburgh Mercy's Operation Safety Net provides house calls to homeless individuals on the streets and a mobile van staffed with medical clinicians and formerly homeless individuals.
The University of Southern California Street Medicine Program takes primary care to the streets providing treatment for acute and chronic conditions, medication dispensing, survival supplies, drug and alcohol counseling, basic treatment of mental illness, hospital consultation with continuity of care post-discharge, and palliative care.
Venice Family Clinic's Street Medicine Program provides primary care, psychiatry, and substance use treatment to the unsheltered. Our model uses an integrated multidisciplinary care team approach where medical clinicians partner with social workers from homeless service agencies that help patients with housing and material needs like food and shelter.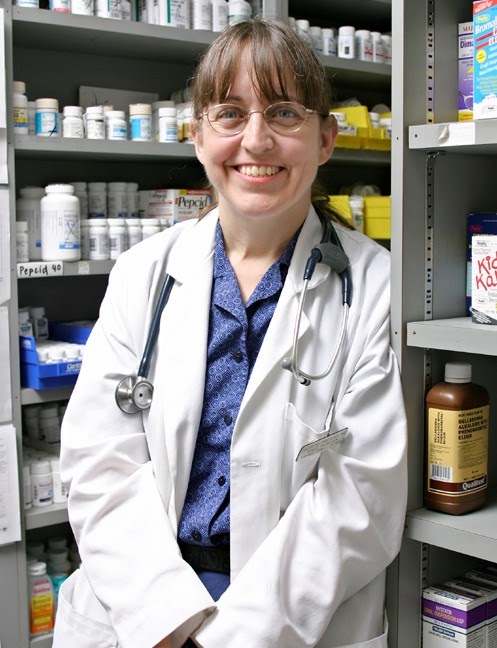 Figure 4a.  Dr. Terri Brehove.  Our mentor.  Taken by Pam Kerr of Venice Family Clinic.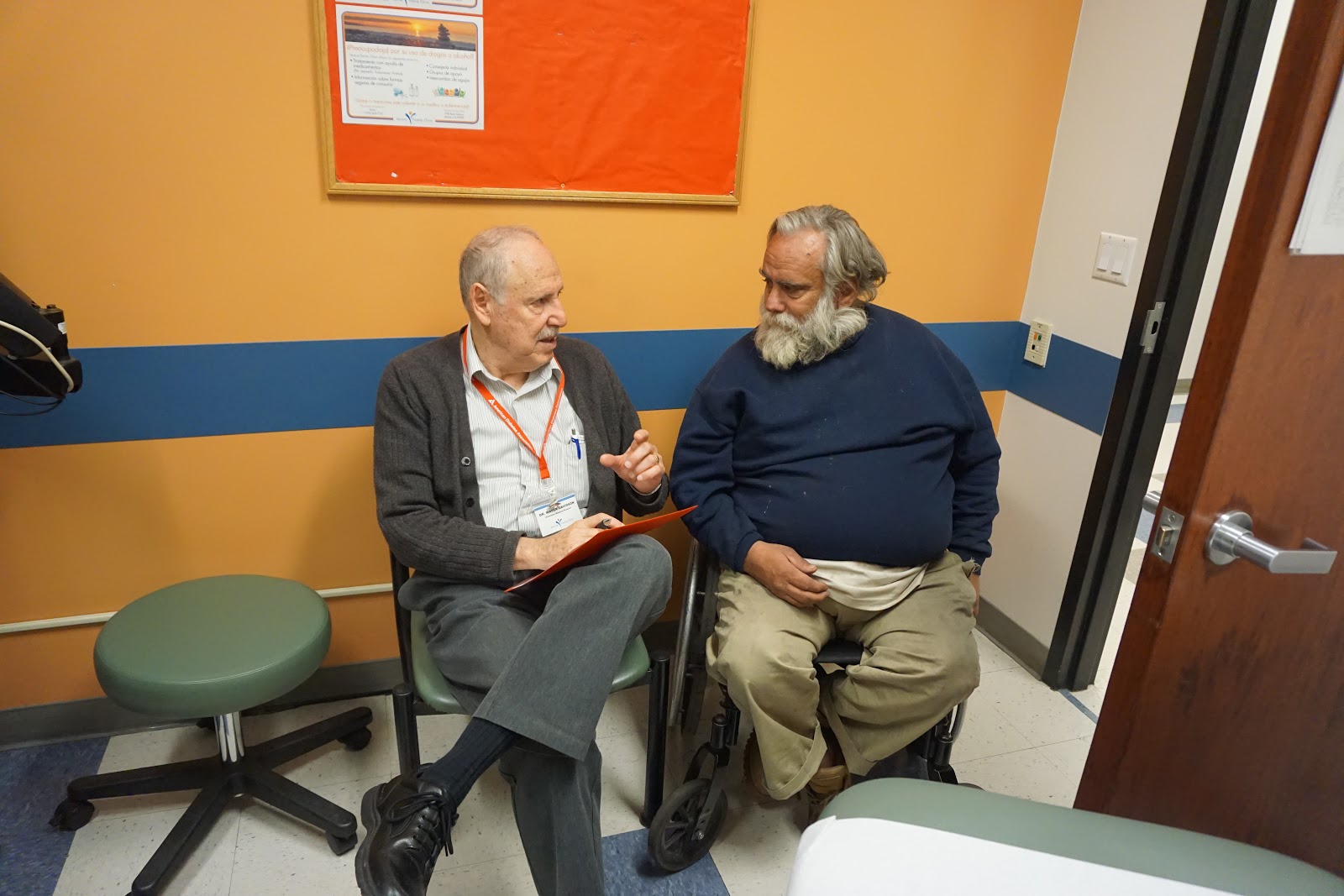 Figure 4b. Dr. Mayer Davidson, co-founder of Venice Family Clinic, meets with an unsheltered patient in the office to provide specialty care. Taken by Pam Kerr of Venice Family Clinic.
Our Street Medicine Program began in 2007 as an extension of Venice Family Clinic's homeless health care services, which date back to 1985. The program has since expanded, from a single field-based team to nine teams with eleven health care clinicians. In collaboration with homeless service agencies, The People Concern and St. Joseph Center, the teams served 1,400 patients last year on street rounds throughout the Westside of Los Angeles County. Seventy percent (70%) of street medicine patients had or were treated for mental health conditions and/or substance use disorders.
Our current Street Medicine clinicians have been influenced by our mentor, Dr. Terri Brehove, who passed away in 2017. Always patient, attentive, and kind, Dr. Brehove taught us to treat every patient as if they were our own family member. She aimed to provide the most comprehensive of services as possible for a patient who may not return to clinical services again. The motto "What would Terri do" is one we will forever carry with us.
In addition to street rounds, unsheltered and sheltered homeless patients are also seen in the traditional clinic setting by street medicine or staff clinicians. In 2019, Venice Family Clinic served 4,525 homeless  patients in a total of 20,000 office visits.
Venice Family Clinic's model applied to the Street Medicine Program focuses on the following priority areas:
Realizing joy in practice by addressing team needs and desires.
Addressing basic human needs in addition to physical, behavioral health and oral health needs.
Working with community partners to create an integrated care system capable of addressing each patient and their needs holistically.
Helping patients live healthier lives through a proactive focus on wellness and prevention.
What is Venice Family Clinic trying to accomplish with this strategy? Through the work of our Street Medicine Team and community partnerships, Venice Family Clinic provides services to alleviate homelessness. More specifically, our goals are to:
Provide sufficient access to primary care in current service areas; expand to adjacent geographical areas where care is needed.
Ensure we provide sufficient behavioral health care, substance use treatment, dental services, home visitation options, system navigation assistance, care coordination and other services for our most vulnerable patients.
Redesign our care model to include elements of team-based care, care management and care coordination, technology-enabled services, and expanded home-based care options.
Specifically address social and environmental factors like hunger, homelessness and trauma by offering additional direct services through expanded partner collaborations.